The materials used by the manufacturer for scaffolding are generally bamboo, wood, steel pipe or synthetic materials. Some projects also use scaffolding as templates. In addition, scaffolding is also widely used in the advertising industry, municipal administration, traffic roads and bridges, mines and other parts. It refers to the various brackets erected by workers on the construction site to solve the problem of vertical and horizontal erection.
In order for construction personnel to work up and down or to protect the outer safety net and install components at high altitude. To put it bluntly, it is to build a shelf. Different types of construction use scaffolding and scaffolding shuttering supports for different purposes. There are two types of scaffolding: comprehensive scaffolding and single-item scaffolding. All industrial and civil construction units that can calculate the construction area and are generally contracted by a construction unit shall perform the induction scaffolding quota. Where the construction area cannot be calculated and it is necessary to erect scaffolding, or the construction area can be calculated but the construction project and the decoration project are contracted by several construction units and other projects, the single-item scaffolding quota can be fulfilled.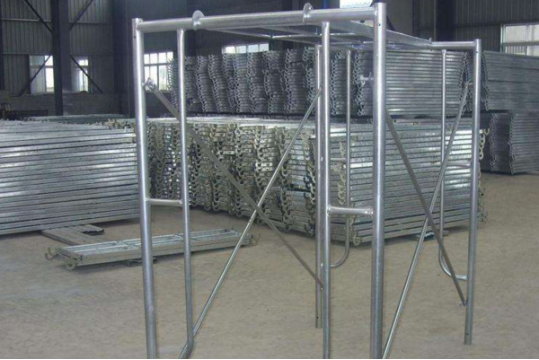 Aluminum alloy quick-mount scaffolding solves the problem of high-altitude operations of enterprises, and it can be overlapped according to the actual needs. It has two width specifications: wide one and narrow one. The narrow frame can be overlapped on narrow ground, which is convenient and flexible. It can meet the requirements of high-altitude operations in narrow spaces such as wall corners and stairs. It is a good helper for high-altitude operations of enterprises.
Scaffolding tube is our name for the materials used to build scaffolding. The reason is that most of the scaffolding is made of tubular bamboo or steel pipes. Moso bamboo and other bamboos are scaffolding tubes that have been used for a long time. However, due to insufficient safety and durability, it is now only used for small-scale construction such as self-occupied buildings in rural areas and relatively backward towns.
In modern construction, now the most commonly used type of scaffolding pipe used in scaffolding wholesale is steel pipe. Since the erection of scaffolding must not only meet the needs of workers, but also meet the stability and durability of the scaffolding, strong steel pipes are the best choice. The steel pipe selected by the scaffolding manufacturer is generally required to have a smooth appearance, no cracks, no bending, not easy to rust, and conform to the relevant national material standards.